Malaysia: Mdm Hajah Saripah Binti Embong
A Teacher Who Builds New-Generation Innovators, Extracting Classroom Knowledge to Solve Daily Life Problems.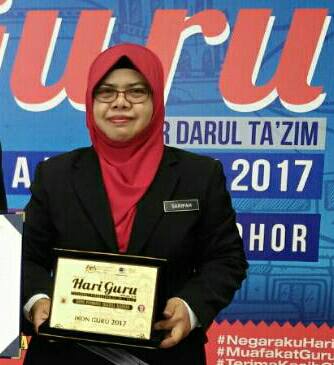 Mdm. Saripah age 54, is a Master Teacher in Integrated Living Skills with 34 years of teaching experience. She received the Malaysia High Certificate of Education, a Diploma in Business Studies, and a Bachelor's Degree in Food Science at the Universiti Malaysia Terengganu.  She began her career as a teacher of science, mathematics, integrated living skills, and geography at the Khairiah Secondary Religious School.  Later she moved to teach at the Marang Secondary Religious School, and from 2007 to the present at the Imtiaz Yayasan Terengganu Secondary School, where she teaches integrated living skills, mathematics, information technology, and science.  She has been the Head of Technical and Vocational Department and a Master Teacher specialized on integrated living skills.
The teaching approach of Mdm Saripah focuses on encouraging students to develop innovation based on classroom knowledge, by converting daily life issues into the project questions and utilizing scientific knowledge to solve them. That was how the school innovation team, Al Fateh Inventors, originated and they have been highly successful both at the national and international levels. An Innovation by students "Dr. Duster," the green cleaning solution containing coconut and aloe vera, is used as the whiteboard eraser, replacing alcohol which causes strong odors and pollution.  The product was further developed be easy to use, winning the gold medal award in the innovative invention competition in Kuala Lumpur.  Another example is the "Miracle of Multi-Purpose Soap" made of pandanus leaf and palm oil, which was awarded the silver medal in the international competition in Taiwan.
Furthermore, Mdm Saripah use ICT to create concepts and design lessons for her Integrated Living Skills class, raising the test scores and improving the children development.